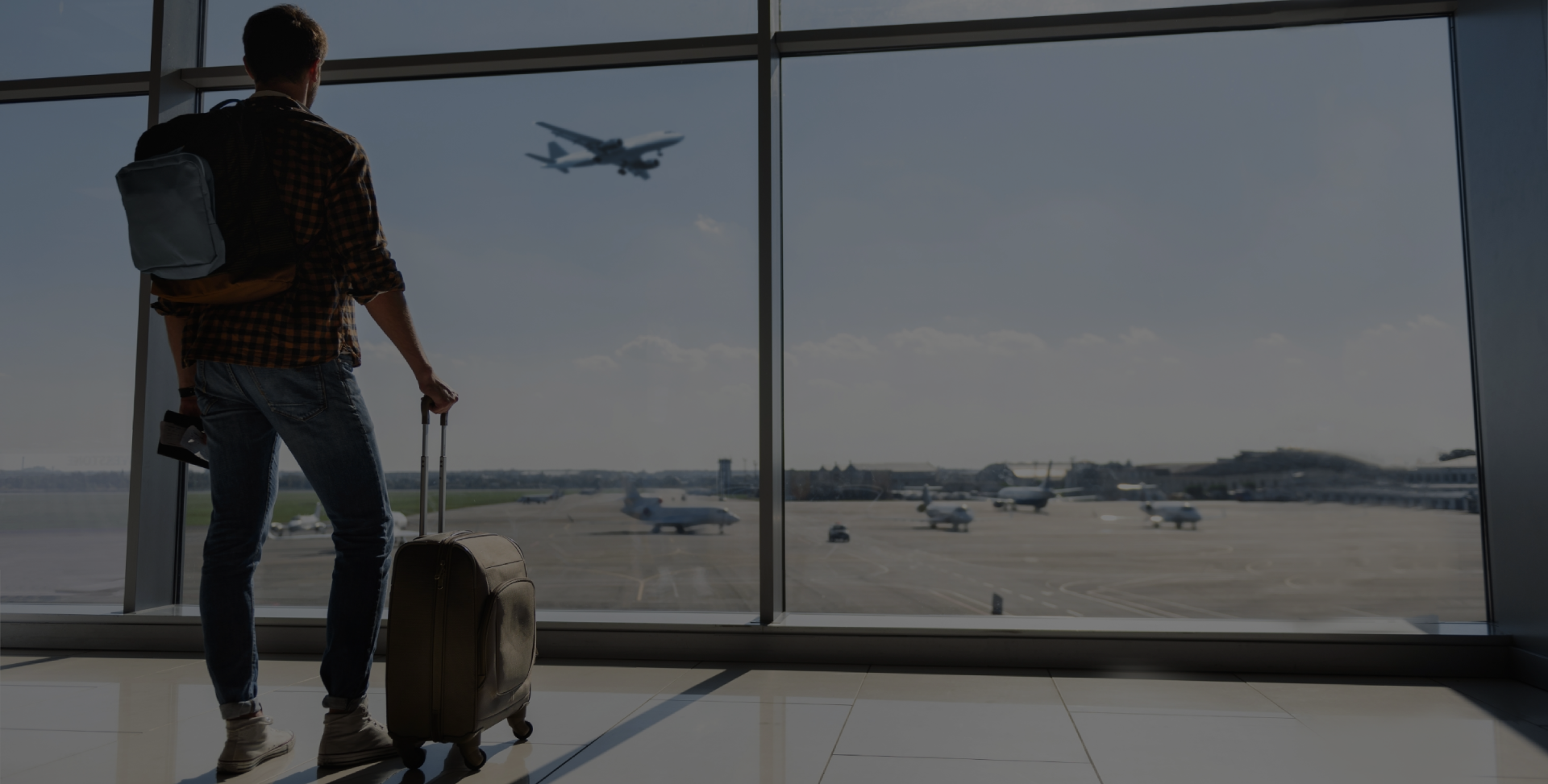 An open-source
Vaccination Passporting Solution.
A blockchain based open-source solution that enables governance over
digital vaccination certificates issuance and verification
in a privacy-preserving manner.
Read Whitepaper
Why use Vaccify?
A simple, proven way to govern vaccination certificates.

Issuer
Issue reliable blockchain-based vaccination certificates to people who have been vaccinated. Enabling your institution to take a leap in digital trust, providing consumers a secure service.

Holder
Recieve and store proof of vaccination certificates in your mobile wallet app. Allowing you to digital prove it along with more control over managing your vaccinations and it's data.

Verifier
Request and verify vaccination certificates anywhere in the world. Verifier institutions can simple engage in either face-2-face or online verification of consumers vaccination status.
Everything on mobile
Use your smartphone to prove you are vaccinated.
Vaccify is an open-source decentralized digtial wallet developed for the purpose of storing and sharing vaccination certificates especially SARS-CoV-2. While preserving privacy and giving you back control of your data.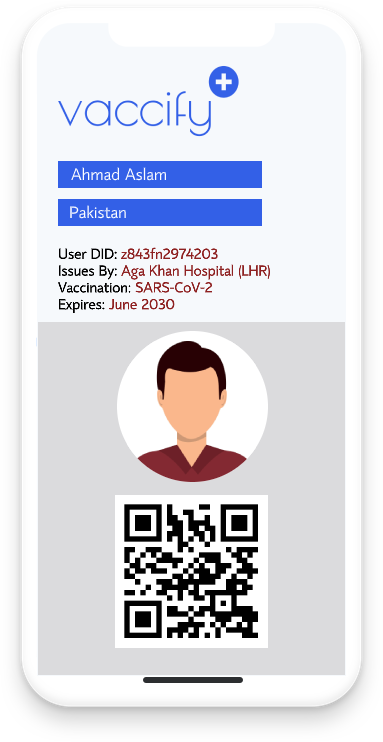 Vaccify creates a blockchain based digital identity also known as Self-Soverign-Identity. Securing your identity using biometrics or a passcode. This decentralized identity allows you to prove certain facts about yourself digitally over internet replacing any paper-based credentials.
High-level of enryption is used to make sure that your data is protected beyond any doubts. You control your private keys making you and only you the sole owner of your data. Not even TrustNet Pakistan can see what you store in your digital wallets.
Issuers of vaccination certificate governs the issuing and revocation of certificates. Whereas the verifier can only validate your vaccination certificate is legit. No information is ever shared without your consent, your biometric validation is mendatory before allowing any decryption process or information sending process.
How vaccify works for you?
In the post-COVID world a formal, provable digital trust is required in society to enable people along with public and private institutes to govern SARS-CoV-2 vaccination credentails.
Issue Certificates
Quick touch less QR issues vaccination passporting certifcates.
Prove Vaccinations
Control your vaccinations records and prove f2f or over the internet safely.
Verify Immunity
Validate immunity of people, enabling your organization to run smoothly.
More than a software
Understand high-level vaccination certificate issuance and verification.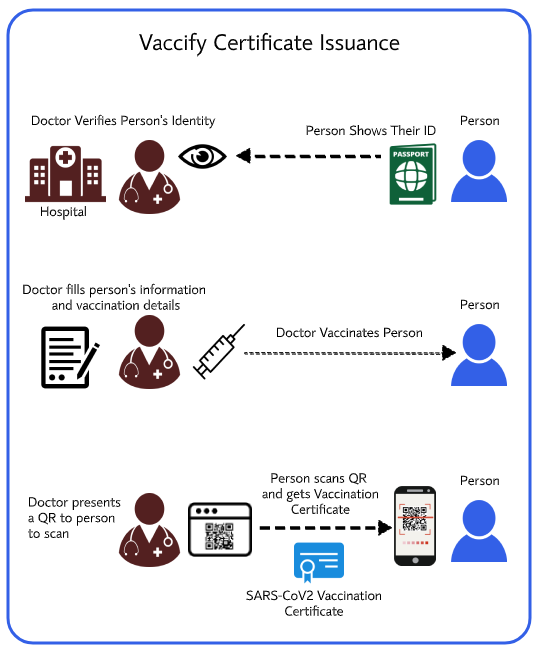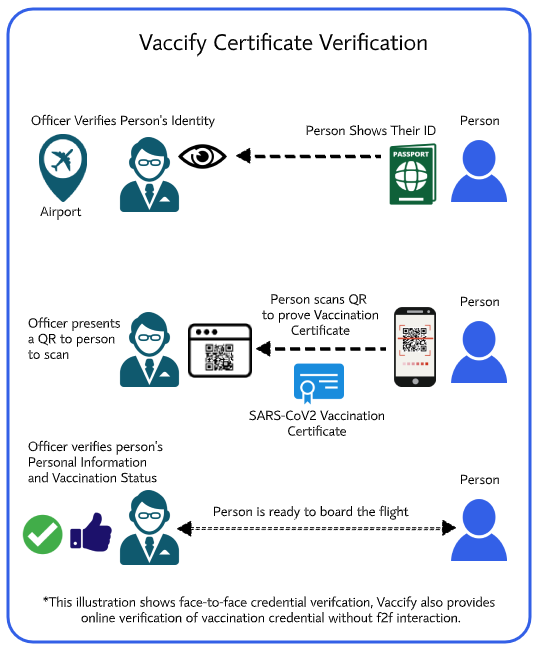 Try out the demo
its open-source and amazing.
Our demo comprises of a Vaccination Issuer Institute (Hospital) and a Vaccination Verifier Organization (Airline). You can run the issuer demo app to issue yourself a dummy SARS-CoV-2 Certifcate and get it verified at verifer app while mimicking booking plane ticktes or flight boarding.
Try Demo
See Github
Frequently Asked Questions
In this section you will find answers to the most common questions about Vaccify.
What is a vaccify certificate?
A vaccify certificate represents a digital proof of your vaccination for any disease. Especially SARS-CoV-2 vaccination credential is used to prove your status of COVID-19 vaccination.
How does vaccify work?
A medical institute can vaccinate you and issue you a digital certificate, which is kept in your Vaccify digital wallet app. This certificate in your app can be later verified by anyone you allow.
Can it help post-COVID society?
Post-Pandamic world will be radically different. The people would need to prove their immunity so they can travel without risk of being infected and infecting others. We are anticipating a dire need in the future for COVID vaccination credentials.
Who control it and what?
You fully control your data and the private key of your decentralized identity, and no one except you has access to it. Issuers only hold authority over issuing certificates and revoking them if needed. Verifiers can only verify if someone is vaccinated.
How trustworthy is it?
Vaccify takes advantage of the immutability and trustworthiness that blockchain has to offer. Certificates issued on the blockchain are reliable and immutable, and can be revoked if needed.
How secure is it?
All your data and it's commununcation channels are encrypted end-to-end. You and only you control you digital identity, and your information is not shared with anyone unless you approve.
Provide your email to join us
Join us in taking vaccify to pilot.